Membertou Gaming Commission
The Membertou Gaming Commission is centric to Membertou's financial and operational recovery. The Gaming Commission will be Membertou's first operation to open when deemed safe to do so.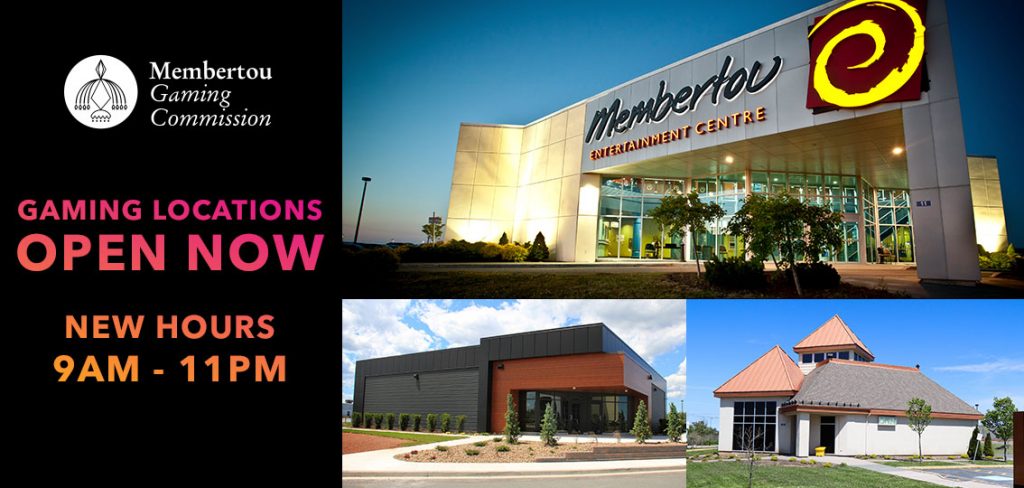 In PHASE ONE, Membertou Gaming Commission will implement the following safety precautions for the health and safety of our staff and customers:
Gaming locations will be reduced to 50% capacity. Only half of the machines will be operational to ensure physical distancing
Permanent tempered glass will be fixed between each gaming machine (VLT) to reduce the spread of COVID-19
Plexiglas will be installed at each cashier station
Hours will be reduced. The hours of operation during Phase One (TBD), to ensure for deep cleaning daily
All staff will be supplied with PPE – masks, gloves and sanitizer for use during their shift
Security will be located at each entrance of gaming locations. Security will be limiting customers to half-capacity and ensuring ALL employees and customers who enter the location sanitize hands before entering
Coffee stations will be temporarily removed for Phase One. Vending machines will be the only concessions permitted.
Physical distancing is mandatory and anyone not practicing will be asked to leave the gaming location
Signage will be placed within the gaming locations to direct customers. All patrons are asked to please follow the rules put in place.
Membertou is reducing the capacity of its gaming locations by 50%. The following locations will be accepting limited patrons for physical distancing gaming:
New Gaming Building: 15 people on non-smoking side, 15 people on smoking side for a total of 30 people permitted.
Gaming Building (Maillard St.) – 18 people total
Membertou Entertainment Centre – 15 people total
Membertou Market Gaming will not open in Phase One.
Membertou Gaming Commission Staffing:
Staff will be brought back in phased approach
Staff will be provided with necessary PPE and are strongly encouraged to wear it during shifts.
Staff will be required to be sanitizing and wiping down surfaces very frequently and in between uses of machines
Staff must adhere to all health and safety rules as mapped out by the province of Nova Scotia
Staff will receive orientation before returning to work
See also: Notice